Message from Father Jason Stone

May God bless you and your family as you count His blessings this week. May your celebration of Thanksgiving be blessed with family, friends, and too much turkey.


Rosary Devotion
Mon. thru Fri.: 8:00 am
Weekend Masses:
Saturday: 4:30 pm
Sunday: 8:30 am & 10:30 am
Weekday Schedule
Mon.,Tues.,Thurs.,Fri.: Mass
Wed.: Communion Service
All at 8:30 am
Reconciliation
Saturday: 3:30 pm
Eucharistic Adoration
First Monday of each month (or the 2nd Monday when there is a holiday) from 9 a.m. to 7:00 p.m.
Baptisms
1st and 3rd Sundays of the month at 2:00 pm. Baptismal preparation required. Baptismal prep takes place on the 2nd Tuesday of the month at 7:30 pm.


MQH Announcements

Subscribe to MQH Email List
If you would like to receive Mary Queen of Heaven email updates, sign up below.

Copyright © 2014 by Mary Queen of Heaven • All Rights reserved • E-Mail: parishoffice@maryqueen.org • 630-279-5700


---


Parish Pay is a convenient and secure way to make your contribution to the church.
You can start making your donation now!
»

May God bless you on this Solemnity of Christ the King. This celebration marks the culmination and end of the liturgical year 2014. What a year it has been! My life is certainly different than a year ago. I hope yours has changed for the better also. The process of transition is a long one that takes time. Every day I feel more at home here and continue to work to improve my ability to stay on top of all of the new responsibilities that are coming my way. I know change can be challenging. Thank you for your patience with me as we all adjust to our new relationships.

The new liturgical year is a good time to review and inform you of adjustments in our worship. Some have already been happening, others begin next week. Let's run through some of the things that are already being or will be handled differently, taking it "from the top."

Mary Queen of Heaven
Catholic Church
Father Jason Stone - Pastor
Parish Office Phone: 630-279-5700
Religious Education Phone: 630-832-8962
Preschool Phone: 630-833-9500
426 N West Avenue,
Elmhurst IL 60126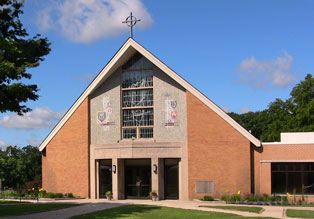 Join Us!

•
Eucharistic Ministers and Lectors will be expected to report to the sacristy to sign in before Mass begins. Anyone not present 10 minutes before Mass may be replaced. The Deacon and/or a designated Mass Captain will be charged with ensuring ministers are present before Mass to avoid the disruptions that have occurred during the Mass in order to recruit replacements.
•
Announcements will be read by the Lector immediately before Mass begins. We are working to keep the announcements concise and to avoid repetition. Information and announcements are readily available in the bulletin and on the website.

•
Once the announcements begin, please be respectful and quiet, even in the Narthex. Sound carries from the Narthex through the choir loft into the Church.
•
The offering will be taken up and then processed to the altar with the gifts of bread and wine, so that the gifts of the people are all offered together. It does take a couple more minutes this way, but the offertory should be a time to slow down and shift gears as Mass shifts from Word to Sacrament.

•
At the Lamb of God, servers have been moved to the opposite side of the altar in order to allow the Eucharistic Ministers to line up single file. Eucharistic Ministers will have signed up for their station assignments before Mass to avoid the confusion that has arisen by trying to relay assignments on the spot.
•
The Priest and Deacon will purify the vessels after communion. This is done because of the reverence we have for remaining particles of the Eucharist and as a reminder of how the Eucharist we just received purifies our hearts.
•
Finally, there have been some questions and confusion about the timing of our "Catholic Calisthenics" (a.k.a. when to sit/stand/kneel) around communion time. We have moved away from the verbal queues which were disruptive. Generally, we change posture during a transition between prayers and not during a prayer. The norm is to stand after the Great Amen is sung, to kneel from after the singing of the Lamb of God until one rises to receive communion, sitting or kneeling after receiving communion until the priest stands to begin the Prayer after Communion, at which time all stand. One may always sit if they are unable to kneel or stand
.
These adjustments come after discussions with the ministry heads and/or liturgy committee around how to ensure that our liturgy runs well so that it can serve its purpose of providing a time for prayer and spiritual growth. I pray that the fruits of these efforts outweigh any inconsistencies or inconveniences while we transition them into practice. Again, thank you for your patience in this time of transition. I feel blessed that I am with you in prayer and in community and look forward to growing in the Spirit with you as we journey together.
Father Jason