Message from Father Jason Stone


Rosary Devotion
Mon. thru Fri.: 8:00 am
Weekend Masses:
Saturday: 4:30 pm
Sunday: 8:30 am & 10:30 am
Weekday Schedule
Mon.,Tues.,Thurs.,Fri.: Mass
Wed.: Communion Service
All at 8:30 am
Reconciliation
Saturday: 3:30 pm
Eucharistic Adoration
First Monday of each month (or the 2nd Monday when there is a holiday) from 9 a.m. to 7:00 p.m.
Baptisms
1st and 3rd Sundays of the month at 2:00 pm. Baptismal preparation required. Baptismal prep takes place on the 2nd Tuesday of the month at 7:30 pm.


MQH Announcements

Subscribe to MQH Email List
If you would like to receive Mary Queen of Heaven email updates, sign up below.

Copyright © 2014 by Mary Queen of Heaven • All Rights reserved • E-Mail: parishoffice@maryqueen.org • 630-279-5700


---


Parish Pay is a convenient and secure way to make your contribution to the church.
You can start making your donation now!
»

During this past week, we saw the intersection of two observances that remind us of the reality that ours is a world divided, and the need to constantly pray for unity in our communities, our country, and our world. Last Monday, we observed the Martin Luther King holiday, and spent some time reflecting on the tragedy of racial division in our country, the difference that one man can make in the face of such injustice, and looking forward in hope that one day we may achieve his dream of a country where all are united in their equal dignity. At the same time, this weekend concludes the week of prayer for Christian unity. It also is a time to reflect on how divided our world is between different religious groups and the tragedies that so often result because of said divisions and the misunderstandings that result. We are acutely aware of these tensions in the past days, weeks, and months as we have watched racial tensions erupt in Ferguson, Missouri and religious tensions erupt in Paris, France.

As Christians, we are a people of hope, and we should dare to dream that we can make a difference in making the world a more united place, even when all we can do is pray. We commemorate the hope of Martin Luther King had, and bring that hope into the week of prayer for Christian unity… that we would always work, pray, and seek the virtues in our own lives to ensure that all we do leads toward unity and not division. As Christians, we have a helper in this task, the Holy Spirit, who as one of the Eucharistic Prayers states: "takes away everything that estranges us from one another." Let us use this opportunity to pray for unity and an end to all that divides. Please join me in praying this prayer this weekend and often in the days to come:

Heavenly Father, we come to you, the Font of Life, to ask that you fill your Church with Living Water to quench our thirst on the quest for Unity among Christians and among all your creatures. Let our hearts be filled with the gift of your Son's love for us. May we find in your Church the living and abiding presence of your love and work together to bring about the desire of you Son, who prayed "that all may be one." May the Spirit never lay dormant within us, but may it sustain us on the path to unity. Through Christ our Lord. Amen.

Father Jason

(Prayer Source: Graymoor Institute, www.geii.org)


Mary Queen of Heaven
Catholic Church
Parish Office Phone: 630-279-5700
Religious Education Phone: 630-832-8962
Preschool Phone: 630-833-9500
426 N West Avenue,
Elmhurst IL 60126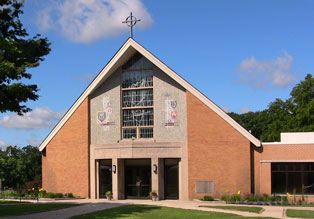 Join Us!


Deanery Forms and Documents