Message from Father Jason Stone
July 13, 2014


Rosary Devotion
Mon. thru Fri.: 8:00 am
Weekend Masses:
Saturday: 4:30 pm
Sunday: 8:30 am & 10:30 am
Weekday Schedule
Mon.,Tues.,Wed.,Thurs.: Mass
Fri.: Communion Service
First Friday of the Month: Mass
All at 8:30 am
Reconciliation
Saturday: 3:30 pm
Eucharistic Adoration
First Monday of each month (or the 2nd Monday when there is a holiday) from 9 a.m. to 7:00 p.m.
Baptisms
1st and 3rd Sundays of the month at 2:00 pm. Baptismal preparation required. Baptismal prep takes place on the 2nd Tuesday of the month at 7:30 pm.

Subscribe to MQH Email List
If you would like to receive Mary Queen of Heaven email updates, sign up below.

Copyright © 2014 by Mary Queen of Heaven • All Rights reserved • E-Mail: parishoffice@maryqueen.org • 630-279-5700


---


Parish Pay is a convenient and secure way to make your contribution to the church.
You can start making your donation now!
»

This weekend in the Gospel, Jesus uses imagery that should be meaningful to anyone who has ever planted something, whether it is the garden in your back yard, or one of those coffee cup plants that we tended to in grade school. He uses the experience of sowing seeds to illustrate how the seed of God's word may or may not be taking root in the soil of our souls. This story is an opportunity to ask ourselves questions such as "How open am I to what God is trying to tell me?" "What am I doing every day to spend some time listening and praying so that my soul is fertile ground for the seeds of wisdom that God is trying to plant in my life?" or "Am I the fertile ground in which the word can grow freely, the rocky soil that allows growth but only with much struggle, or does the seed find only the hardness of the path where it cannot even take root?" When I ask myself those questions, I find myself thinking that I am probably at times open to the seeds God is trying to plant, but sometimes I am open but eventually lose interest or stop trying, and sometimes I would just rather not listen at all.
One of the beauties of Jesus' teaching is that He knows the full range of experience and can teach us in a way that will speak to our hearts regardless of where we are today. Jesus, like any good gardener, does not limit the seeds He plants to one area, but spreads them around so that somewhere one will take root. But He also knows to be attentive to which type of soil needs more seed and which needs less. As disciples, we should always be praying that God would show us how to best use the seed we have been given to attain the highest yield.

In my priesthood, this means being attentive to my schedule so as to be most available when I am most needed. As your work and school schedules keep most of you busy during the week, I have found that it is on the weekend when you are most likely to need a priest. In order to have a greater presence at the parish on Fridays and Saturdays, I will be changing my day off so that it falls in the middle of the week instead of the end of the week as it is currently scheduled.
To accomplish that change, it will be necessary to adjust the daily Mass schedule. Beginning August 1st, weekday Masses will be offered on Monday, Tuesday, Thursday, and Friday. Wednesday mornings will be a Communion Service. The time will remain 8:30 a.m. Any Mass intentions that were scheduled for Wednesdays after August 1st will be transferred to the Friday of the same week. I regret any inconvenience this change may cause, but assure you that it will allow me to be more available at times that are convenient for you.

May God bless us all as we work to tend to the garden of our soul to keep it ready to receive His word and in our work as disciples helping spread His seeds of wisdom wherever He gives us the opportunity,

Father Jason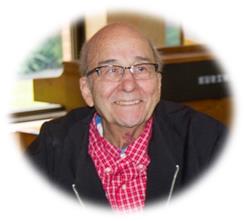 ---
Pastor of Mary Queen of Heaven
Visitation: Sunday : July 20 3-8 p.m.
Glen Ellyn, IL 60137-4688
Vigil Service : July 20 at 7:00 p.m.
Funeral: Monday: July 21 at 11:00 a.m.

Mary Queen of Heaven
Catholic Church
Father Jason Stone - Pastor
Parish Office Phone: 630-279-5700
Religious Education Phone: 630-832-8962
Preschool Phone: 630-833-9500
426 N West Avenue,
Elmhurst IL 60126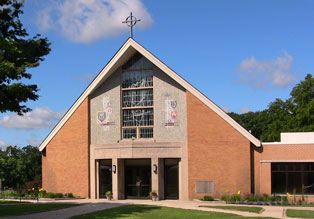 Father John Barrett was born on April 24, 1933 in Chicago to Francis Joseph Barrett and Hildegarde Cecilia Parr, and was baptized at St. Petronille Parish in Glen Ellyn. He attended St. Petronille Parish Elementary School, Quigley Preparatory School in Chicago and St. Mary of the Lake Seminary in Mundelein.

Following ordination to the priesthood by Bishop Martin D. McNamara on May 30, 1959 at the Cathedral of St. Raymond, Joliet, Father John Barrett was assigned to Sts. Peter & Paul Parish in Naperville. Subsequent assignments as parochial vicar include Notre Dame Parish in Clarendon Hills (1964) and St. Alexander Parish in Villa Park (1969).

Father Barrett was named pastor of Notre Dame Parish in Clarendon Hills (1972); St. Alexander Parish in Villa Park (1984) and Mary Queen of Heaven Parish in Elmhurst (1996). Father ministered at Mary Queen of Heaven Parish until his retirement in March of 2004.

In addition to his pastoral responsibilities, Father Barrett served as Dean of the East DuPage Deanery and as a member of the Diocesan Pastoral Council.

The body of Father John Barrett will lie in state on Sunday, July 20, 2014, from 3:00 p.m. to 8:00 p.m. (Vigil Service at 7:00 p.m.) at St. James the Apostle Church in Glen Ellyn. Visitation will also be held on Monday, July 21, 2014 from 9:00 a.m. to 10:45 p.m.

Mass of Christian Burial will be held on Monday, July 21, 2014 at 11:00 a.m. at St. James the Apostle Church in Glen Ellyn. Priests wishing to concelebrate are asked to bring an alb and the diocesan white stole.

Questions may be directed to Steurle Funeral Home,
(630) 832-4161