Rosary Devotion
Mon. thru Fri.: 8:00 am
Weekend Masses:
Saturday: 4:30 pm
Sunday: 8:30 am & 10:30 am
Weekday Schedule
Mon.,Tues.,Thurs.,Fri.: Mass
Wed.: Communion Service
All at 8:30 am
Reconciliation
Saturday: 3:30 pm
Eucharistic Adoration
First Monday of each month (or the 2nd Monday when there is a holiday) from 9 a.m. to 7:00 p.m.
Baptisms
1st and 3rd Sundays of the month at 2:00 pm. Baptismal preparation required. Baptismal prep takes place on the 2nd Tuesday of the month at 7:30 pm.


MQH Announcements

Subscribe to MQH Email List
If you would like to receive Mary Queen of Heaven email updates, sign up below.

Copyright © 2014 by Mary Queen of Heaven • All Rights reserved • E-Mail: parishoffice@maryqueen.org • 630-279-5700


---


Parish Pay is a convenient and secure way to make your contribution to the church.
You can start making your donation now!
»


Mary Queen of Heaven
Catholic Church
Parish Office Phone: 630-279-5700
Religious Education Phone: 630-832-8962
Preschool Phone: 630-833-9500
426 N West Avenue,
Elmhurst IL 60126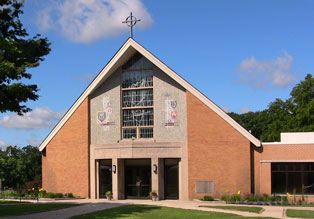 Join Us!


Deanery Forms and Documents
Message from Father Jason Stone
March 30, 2015
My brothers and sisters in Christ,

Since Ash Wednesday, when snow still covered the ground and the sun set early in the evening, we have been preparing ourselves for this day. Our Lenten penances and devotions have emptied our hearts to prepare them so that we are more aware, not just of our own weaknesses, but of our need for a savior. It is that savior that we commemorate and celebrate in this Holy Week. The Resurrection that we will celebrate next Sunday is indeed a reason for joy, but one cannot really enter into fullness of that joy without experiencing the fullness of Jesus' journey toward that victory.

Today, we arrive at Palm Sunday. No other liturgy in the Church year brings us into the paradoxes of life, with its joys and its sorrows, than today's celebration. We begin by joyfully exclaiming "Hosanna in the highest! Blessed is he who comes in the name of the Lord!" Then, we move from that great joy into the sadness of the passion. The change happens as fast as life often changes. We are blessed to have a savior that knew our need to be redeemed in both life's triumphs and its tragedies. It is to that savior who we know in faith is with us on every day and in every circumstance that we devote this Holy Week.

There are many opportunities to enter into the mystery of the joy and suffering of this Holy Week. I will be available for Reconciliation Tuesday at 6:30pm and Friday after Morning Prayer. The three days before Easter are a three day liturgy called the Triduum. More information on each day can be found on page 4 and the schedule of liturgies on page 3. New this year, we will be celebrating Morning Prayer at 8:30am Thursday, Friday, and Saturday as an additional opportunity to pray with the community and enter into the mystery of our salvation, with its joys and sorrows.

May God bless you with the grace to enter fully into this Holy Week,


Father Jason